Jack's Back!
In the sixth Mowgley Mystery, our hero finds himself drawn into a murky and sometimes murderous world of theft, fakery and fraud.
It's guestimated that criminality in the Art World amounts to six billion dollars a year. Former Special Branch officer and now Normandy–based private investigator Jack Mowgley is called in when the naked body of a celebrity art critic is found in bizarre circumstances in the wine cellar of his chateau.
The case leads Jack on a convoluted and sometimes bloody trail to Paris's famous Left Bank bohemian quarter and even more mayhem and death.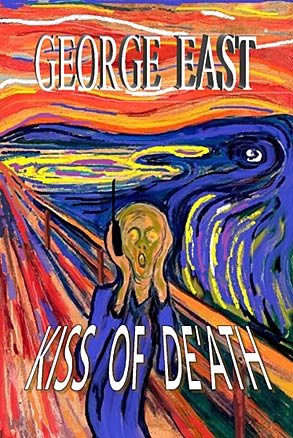 An ideal gift or summer–read for all.
The Un-Consummate
Professional!
One of the first and most successful self-publishers in modern times, George East has written thousands of books, short stories, newspaper and magazine articles, plays and TV and radio scripts and advertisments. Many millions of people have read his work, seen him on television and listened to his dulcet tones on radio.
As a travel writer and broadcaster, George and his wife Donella are constantly on the move, looking for new countries and unusual and interesting places and people to write about.
On this website you can find out more about George's varied career path and how he came to be where he is. Which is wandering and wondering around Europe.
There's also a section showing videos of George's latest barmy adventure in Bulgaria, and a catalogue of all his books in print.
You can buy them from Amazon, elsewhere on line, or any discerning bookshop. Alternatively, if you don't like the idea of buying and reading his books, George asks that you just send the money direct ...
NOW OUT – POMPEY LAD Part Two – The Rock 'n' Roll Years – 1960 – 1965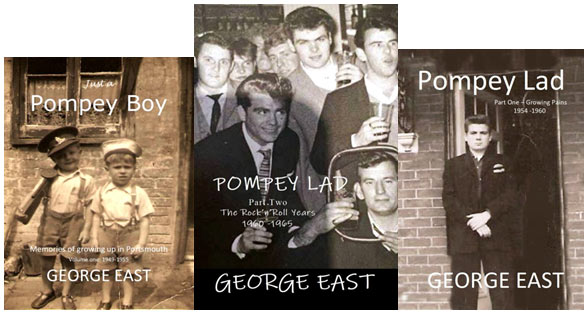 Print and Kindle
George East's Portsmouth-born ancestors fought at the battles of Trafalgar, Sebastapol and in both World Wars. Our hero fought most of his teenage battles on the streets of his beloved city. This tale of angst, love, rock'n'roll music and the ceaseless pursuit of sex is a revealing, amusing and above all honest account of what it was like to be young at this unique time.
'Because of the vast quantities of beer, acid (LSD), upper and downer pills, scrumpy cider and whacky baccy ingested at the time, my memories of the Sixties are understandably patchy in parts. To fill in the blanks, I'm grateful for the help of surviving contemporaries, old friends, foes and lovers and, when available, police and court records and the recollections of arresting officers. My escapades were perhaps extreme, but I think my experiences and adventures in the so-called Swinging Sixties were broadly similar to millions of young men and women at a time when society changed dramatically from the grey post-war years to what seemed to many a new and exciting world.
'Whether you believe it was a change for the better or worse will I think depend on your age, attitude and how much fun you had in those far-off days.'
Extract:
Alongside a long, wide and mostly untroubled road on the outskirts of the city, Bert's specialised in fry-ups, bacon sandwiches and doorstep-sized slices of dripping toast. The mugs were man-sized and the tea strong, and Bert's was the in place for local bikers to gather to show off their bikes, tell tall tales and indulge in regular 'burn-ups.' A particular speciality at Bert's was the round-the-roundabout challenge. This involved the contestant sitting astride his bike with the engine running while someone put a specified record on the juke box. The challenge was for him to race towards the city, past the Smith's Crisps and Johnsons baby powder factory, round the roundabout there and then back to Bert's before the record ended. In those days, most pop songs lasted less than three minutes, so it was rare that the deadline was beaten.
I was half-jestingly challenged once, and to the surprise of the regulars picked up the metaphorical gauntlet. This was not because I fancied risking my neck, but fancied a greasy biker's long-legged and big-breasted pillion passenger. Ever the dramatist, I chose Tell Laura I Love Her as my record. The theme of doom-laden Ritchie Valens song was of a love-lorn teenager who dies in a car crash, and had been briefly barred by the BBC for fear it might encourage listeners to commit suicide. With a soulful look at the curvaceous bikerette, I squared my shoulders, turned up the collar of my jacket and left.
Although I thought about pretending to do the full journey, I decided to have a real go at beating the time challenge. Though limited to sixty-five mph top speed, my bike was no slouch at acceleration. Accordingly, I roared off and took what I thought were near-insane risks overtaking and cutting-up other road users. Back at Bert's, I dropped my bike on its side when I arrived and rushed in to hear the dying strains of Tell Laura I Love Her.
The balloon of my elation was pricked when the referee told me I had taken so long he had put the record on twice.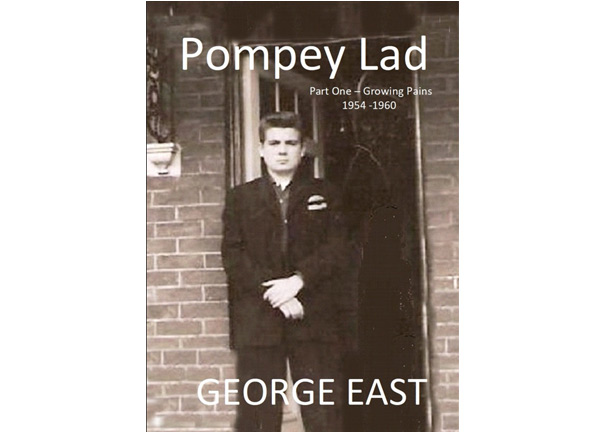 Pompey Lad Pt. 1
---
Pompey Lad – Part One 1954 – 1960
Growing Pains is the second book in a series of memoirs about growing up in the city of Portsmouth after World War Two. We join George in 1954, when Roger Bannister breaks the four–minute mile barrier, meat comes off rationing, and the big musical hits of the year include I saw Mummy kissing Santa Claus by the Beverley Sisters and Norman Wisdom's Don't Laugh at me 'cos I'm a Fool. Times are changing, but the country's leading naval port is still struggling to recover from the death and destruction brought about by wartime bombing.
The story of the pains and pleasures of coming of age in Portsmouth or any city as the Swinging Sixties loom and teenagers are invented makes for a sometimes poignant, sometimes hilarious and always entertaining read.
A truly honest account of a young man's life, his struggles with adolescence and keeping up the appearance of being tough. Keep an eye open for the next instalment of George's memoirs Pompey Lad II – The Rock'n'Roll Years
Extract from Pompey Lad – part one:
"I'm not doing it down here," she said as she bit into her saveloy. My fishcake and chips lay wrapped on the grass beneath the big elm tree by the far gate. The chip shop had a good reputation, but I was too nervous to think about eating. Humps 'n' Bumps Hilda put the last piece of pink sausage into her mouth and got to her feet. I followed her and we stood face–to–face as she leaned back and hiked her skirt up with practised ease. I gulped, considered my options, and reached for my zip with trembling fingers. It was literally all over in a matter of seconds, and I think she must have got far more satisfaction from her saveloy than my clumsy and so brief performance.
BOOK CATALOGUE:
Take Your Pick!
This website lists all George's books that are currently available. There are direct links to Amazon where you can buy them and, where appropriate, download them. There are also superb recipe books by George's wife Donella. Go To Catalogue.
P.S. If you'd like to order any of George's books direct from us, just contact Fran at francesca.brooks@hotmail.com
The
George East

Story So Far

George made a characteristically noisy entrance into the world when he was born in an air raid in 1944. The family lived uncomfortably close to Portsmouth Dockyard, so George's fire warden father moved his heavily pregnant mother to a cottage on nearby Hayling Island. What Mr East did not know was that the authorities regularly lit large fires on the sparsely populated island to attract the Luftwaffe and its bomb cargo from their true target. Thus our hero was born into a world of noise, upheaval and danger.